MOHA: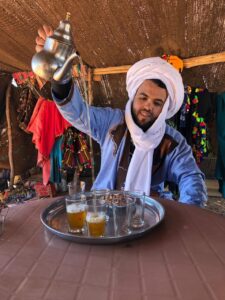 Moha, who created Morocco Vibrant Tours together with his brother Daoud. Moha is one of the skillful and expert tour drivers in the company. He was born and raised in a small village deep in Sahara Desert. He led a nomadic life with his family. He started being in touch and communication with overseas travelers from early age. His aspiration was to show the beauty of the region he lives in.
Moha attended the University of Meknes, where he gained his degree in English Linguistics. He also masters several languages thanks to his belong to a touristic region which receives travelers from all over the world. Thus, Moha chose to be an ambassador for his country by sharing the Moroccan culture with all travelers who choose Morocco as their destination for travel.
Moha joint tourism industry for over 10 years, this gives him a great reputation. He is very knowledgeable, responsible, respectful…With Moha, you arrive as guest and leave as a friend.
The philosophy of the company is to strive to offer guests with the best holiday, services, quality, attractive prices to meet or go beyond the expectations of travelers.
Moha won't let you disappointed.
DAOUD: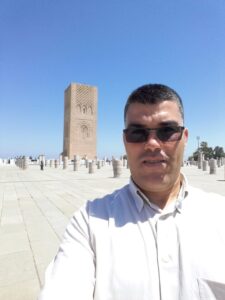 Born and raised in Sahara Desert, he knows by heart all the secrets of leading a nomad lifestyle. He has been in tourism industry for over 15 years. He worked for several tour agencies in the country before he built his own in hand with his brother Moha. Thus, he knows Morocco as the back of his hand. Daoud got primary educational level, but thanks to his genuineness, intelligence as well as his contact and relation to travelers from all over the world; he got great skills to communicate as well as to create a friendly ambience accompanying travelers to explore the historical landmarks, cultural and religious diversity the country is repleted with.
OMAR: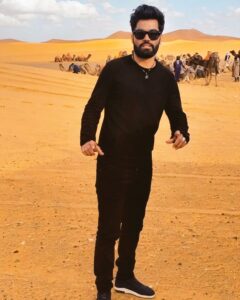 Omar was born in a small isolated village down in the Sahara. He belongs to to an expanded ancient family with great reputation in the Southeast region. He began his educational process in the town of Tafraout, then he joint Erfoud to continue his career. He dropped out at secondary level and devoted his time to tourism guidance. He earned outstanding experience guiding travelers around the country. Omar is a young mature person full of energy, enthusiasm, knowledge, responsibility. Hence, he is very eager to share the country's secrets with all the visitors.
Do Ask Omar! He is all thrilled to clear out all your doubts.
HAMID: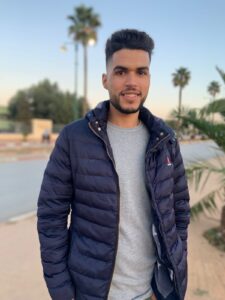 Born and raised in the Desert. He studied in Erfoud before he moved to Meknes where he got his BA degree at historical studies. Thus, he has great knowledge related to Moroccan history. He is A young man who joint the company due to his willingness and great intention to raise up the agency to the best. He came up with new tips and modern ideas to include in tourism industry. Hamid works across the kingdom; knows all the sites with historical privilege to explore during your tour in Morocco.
Hamid understands by heart the core meaning of being a tour guide, therefore, he is always reading books to enrich his knowledge. The philosophy of the Hamid is to strive to offer guests with the best holiday, services, quality, attractive facts about the country to meet or go beyond the expectations of travelers. All your questions have the right answers by Hamid's answers. He is always eager and delighted to clear out your doubts and supply you with reasonable answers.
YOUSSEF:
Youssef, a young Berber originally from the famous desert of Merzouga in the southeast of Morocco. He is an "English Linguistics" graduated student at the university of Meknes. Youssef is a multi-lingual as he speaks several languages, English, Spanish, French, Arabic and Berber…
Youssef is a professional driver & guide as he joint tourism at early age and he improved his communication skills. He is very respectful, knowledgeable in term of history and culture. He created an excellent reputation in the travel business for himself and he is thrilled to share you everything related to your travel around Morocco.
Youssef devotes all his time for your satisfaction and relaxation during your visit to Morocco. Your safety is his duty.